More from Happy Content Clients
The team is thorough, professional, and efficient.
I have been using Juris Digital for a few months now getting new content for our website. The team is thorough, professional, and efficient. Greatly appreciate the service!! Thanks!!
They have created top-tier content for my firm
I cannot say enough great things about Juris Digital. I know that my legal goals will be met with their assistance as I am already seeing the fruit of their efforts.
Highly recommend!
Maxine and the team did a great job with the content for my website. Highly recommend!
Answers
Legal Content Writing from Juris Digital
If you need legal content for your website or blog, you've probably realized that finding an affordable, reliable, and skilled legal writer is difficult.
We know this because we spent years churning through freelance writers and third-party legal content writing services as we sought to deliver consistent, accurate, and timely content to drive our client's SEO and content marketing initiatives. While our experiences weren't all bad, we decided that we could offer our clients a more consistent and quality product, while also being able to respond more adeptly to specific feedback and requests, if we built our own in-house team of writers. So that's what we did.
We built a team of talented, reliable, and responsive legal content writers so that you don't have to.
When you partner with Juris Digital's legal content team you don't just get content; you get content that is backed by decades of combined legal marketing and SEO experience. Every piece of content you get from us will deliver value for your firm, not just fodder for your blog.
Start a quote
Call 855-593-6935
What types of legal content do you offer?
How much does legal content cost?
How fast can you deliver?
What if I don't know what kind of content I need?
I want a quote - What are the next steps?
View All
Personal Injury
Larger Law Firms
Large Market Firms
Fully Custom Sites
Family Law
Business Law
Real Estate Law
Smaller Law Firms
Employment Law
Estate Planning
Criminal Defense
Small Market Firms
Custom Homepage Sites
Baird Mandalas Brockstedt Federico & Cardea, Llc
96/100 Page Speed Score
176% Organic Traffic
119% Conversions from Search
visit website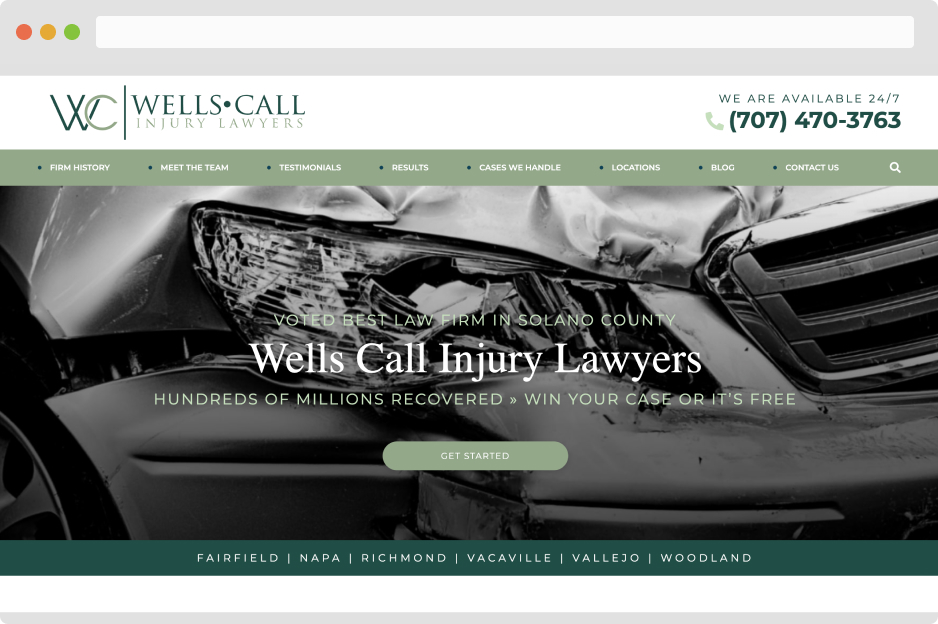 OUR PEOPLE
Meet the Legal Content Team
We are so proud of this team of writers. They are true professionals who take pride in delivering exceptional work time and again. If you hire us to help with your legal content marketing, these are the competent hands you'll be in.
Jessame Jensen, J.D.
Jessame Jensen is an attorney in Salt Lake City, Utah. She graduated from the J. Reuben Clark Law School at Brigham Young University in 2009. Jessame is passionate about legal writing and has spent many years working for the Utah Court of Appeals as a judicial law clerk. She also has experience in family law and digital marketing compliance. Jessame has a talent for both writing and editing. She has a broad-based legal background and has written on topics across the spectrum of civil, criminal, and administrative law. Jessame enjoys reading, going to the theater, and traveling. Disney World is her "happy place."
Kirin McKenna, J.D.
Kirin McKenna is a California-based private practice attorney in the Bay Area. Her practice focuses on estate planning, estate administration, probate, family law, and business law. Prior to law school and passing the California bar, she worked in design and development within the clothing and furniture industries. She has written for online fashion publications and online legal publications and enjoys melding her love of writing with her myriad of interests. In her free time, Kirin loves traveling the world and spending time with her family and dog, Frannie, while exploring the beautiful beaches and forests near her home.
Jarrah Ivy, J.D.
Jarrah Ivy received her bachelor's degree in Criminal Justice Administration from West Texas A&M University in Canyon, Texas and later went on to graduate from the University of Oklahoma College of Law. She is currently an attorney in Denver, Colorado and enjoys using her legal expertise to help create intriguing content for Juris Digital clients. When she's not working, you can find her going on a hike, walking her three dogs, or watching a Denver Nuggets game.
Erin De Santiago
Erin De Santiago has an associate degree in Paralegal Studies, a bachelor's degree in Criminal Justice, and she also obtained her Certified Paralegal designation. Erin spent over a decade working in the insurance defense industry, handling high-exposure breach of contract and personal injury claims. She also has over a decade of experience in marketing, social media management, and content creation for international tourism brands. Today, Erin uses the knowledge gained in both industries to create legal marketing materials, SEO-optimized blog posts, and website landing pages for law firms around the country.
Bryanna Fissori, J.D.
Bryanna is a legal writer at Juris Digital with nearly two decades of content writing and research experience. She is also a professional boxer and MMA fighter who trains and coaches in Denver, Colorado. Writing and fighting may seem like a strange combination, but both speak to her determination and work ethic. Bryanna was born and raised on a dairy farm in Northern California but spent many of her adult years living on the island of Oahu. She has a bachelor's degree in Agriculture Business and loves peanut butter and jelly.
Thomas Patrick, J.D.
Tom is a Legal Content Writer. An active attorney, Tom graduated from Boston College Law School in 2016. After law school, he clerked for Chief Justice Robert J. Lynn of the New Hampshire Supreme Court. Since 2017, he has practiced labor and employment law in the public sector. In his spare time, Tom enjoys mountain climbing, reading, boxing, and traveling.
Dawne DuCarpe, J.D.
Dawne DuCarpe received her bachelor's degree in English Literature and Theatre from the State University of New York at Buffalo. After spending ten years raising and homeschooling her three children, she decided to pursue her passion for criminal law and go back to school. After graduating in the top 10% of her class at Barry University School of Law, she began serving in the Public Defender's Office for the Ninth Judicial Circuit in Orlando, Florida. She enjoyed an exceptionally high win rate at trial as she protected the criminally accused's constitutional rights in court daily. She later opened her own practice where she represented both criminal and family law clients. Dawne has since retired from law, but enjoys using her writing talents and legal knowledge to create compelling content for Juris Digital clients. When she's not working, Dawne enjoys spending time at Florida's many beaches and Theme Parks with her husband and children.
Tony Chiaramonte, J.D.
Tony Chiaramonte is a New Jersey-based attorney who currently practices in Philadelphia. Originally from the Bay Area, he spent most of his life in Salt Lake City before moving to Philadelphia to attend law school. After graduating from law school, Tony served as a judicial law clerk for the Honorable Judge Cathy Cochran on the Texas Court of Criminal Appeals, in Austin, Texas. Tony loves traveling, skiing, camping, and spending time outdoors with his wife, two children, and dog, Whiskey.
Lennee Mozia, J.D.
Lennée Mozia is a Colorado-licensed attorney in the Denver metropolitan area. She received her bachelor's degree in Literature from Duke University and she graduated from Washington University in St. Louis School of Law. Lennée loves writing, researching, and sharing what she has learned with others. Good food, good art, good laughs, and loved ones make Lennée happy.
Jennifer Edelson, J.D.
Jennifer graduated from the University of Minnesota with a B.F.A. in fine arts and a J.D. from the Mitchell Hamline School of Law. After graduating at the top of her law school class, Jennifer clerked for the Honorable Judge Lawrence Agerter in Minnesota's 14th district. Following a two-year stint writing court opinions and mediating small claims court disputes, she moved on to teach legal research and writing at the University of Minnesota Law School and into employment and privacy law practice for a boutique law firm in Minneapolis. Jennifer quit practicing law to pursue art and writing full time after a battle with MS and has since authored several award-winning young adult novels and short stories. She lives in New Mexico and, when she's not writing, enjoys exploring all the culture, food, history, geology, art, and hiking the state has to offer. Indulge her interests in Albert Camus, rockhounding, or UFOs, and she'll be your lifelong best friend.
Kristen Ottomanelli, J.D.
Kristen Ottomanelli is a New Jersey-based attorney licensed in New Jersey and New York. She received her J.D. from New York Law School and her bachelor's degree in Political Science from Wiliam Paterson University. Kristen currently practices in healthcare provider collections, workers' compensation, and general litigation. Prior to joining her current firm, she practiced criminal defense. Kristen enjoys writing, being outdoors, and spending time with her husband, identical twin boys, and German Shepherd.
Sabina Veneziano, J.D.
Sabina is a Nevada-based Legal Content Writer at Juris Digital. She graduated from Georgetown University Law Center with a J.D. and New York University School of Law with an LL.M. She is a New York-licensed attorney. In her free time, Sabina enjoys reading, writing, and spending time with her family.
Taylor Bradley, J.D.
Taylor is an Iowa-licensed attorney. She earned her B.A. in Political Science and History summa cum laude from Iowa State University and her J.D. with High Distinction from the University of Iowa College of Law. In law school, Taylor spent her time working on articles for the Iowa Law Review and working with clients in the immigration and domestic violence legal clinics. After law school, Taylor clerked for the Iowa Supreme Court, where she spent two years learning about many different areas of the law and finding something fascinating in (almost) every one. She then practiced business immigration law before turning her focus to legal writing. Taylor loves her cats, music, exploring nature, and embracing her nerdy side by playing tabletop roleplaying games like Dungeons and Dragons.
Austin Chegini
Austin is a third-year law student at the University of Texas School of Law. He worked in digital marketing for seven years, with a focus on content creation and SEO. Outside of class, Austin enjoys exploring the outdoors and participating in pro bono projects to benefit small business owners in Central Texas. He intends to practice corporate and technology transactions law in Austin following graduation.
Erin Band
Erin Band graduated from the University of Houston-Victoria with a BBA in Finance. She is a QA Analyst at Juris Digital, ensuring quality by reviewing briefs and other documents, which provides a strong foundation for legal content deliverables. Before joining Juris, she worked with attorneys in the captive insurance industry, focusing on tax and legal matters. Erin enjoys reading, doing puzzles, being outdoors, and spending time with her dog, Theo.
Thought Leadership
Legal content insights from our award-winning blog.
From the time of our founding we have always published prolifically about our work. The posts below will help you understand how we think about content, how we've evolved over time, and how we're succeeding for our clients today.