This guide explains why we always make an intentional effort to increase our client's Avvo Ratings and generally optimize their presence on Avvo.com.
This guide also contains step-by-step instructions for increasing one's Avvo rating and details the items that will not increase one's Avvo rating.
Finally, at the end of the guide we address a few of the most common questions we receive relating to Avvo attorney ratings.
Click the buttons below to jump to the section of the guide that is most relevant to you. Get the info you need, and get back to your day.
What is an Avvo Rating for Lawyers?
Whether you know about it or not, as an attorney, you most likely have a profile on Avvo.com, and consequently, an Avvo Rating.
An Avvo rating is a 1 to 10 score used by Avvo.com – an online directory of lawyers – to rate individual attorneys based on the contents of their Avvo profile. A lawyer whose Avvo profile is fully filled out, and also includes awards, speaking engagements, and recommendations from other attorneys, will have a high Avvo rating.
These ratings are published in Google, Yahoo!, and Bing search results when people search for attorney's names. The the rating is meant to give insight to consumers who are doing research to find a lawyer.
Here is the range of Avvo ratings and their designation:
| Rating | Designation |
| --- | --- |
| 10.0 – 9.0 | Superb |
| 8.9 – 8.0 | Excellent |
| 7.9 – 7.0 | Very Good |
| 6.9 – 6.0 | Good |
| 5.9 – 5.0 | Average |
| 4.9 – 4.0 | Concern |
| 3.9 – 3.0 | Caution |
| 2.9 – 2.0 | Strong Caution |
| 1.9 – 1.0 | Extreme Caution |
Why is Having a High Avvo Rating Important?
Many attorneys we work with have the opinion that Avvo's ratings are unreliable. They aren't wrong.
We've seen many cases where an attorney with an otherwise stellar professional reputation fails to achieve an above average Avvo Rating simply because she never took the time to claim and complete her Avvo profile.
We find this common anecdote problematic as it demonstrates why we and other attorneys believe that the reliability of Avvo's attorney ratings is, at best, questionable.
What we do also know is that Avvo received $71.5 million in funding in July 2015, and stated explicitly their goal to "increase Avvo brand awareness through continued marketing initiatives".
Translation: Avvo's audience is big and getting bigger.
Avvo.com has very strong organic search rankings in Google for commercial keywords…
…and for branded keywords (attorney names):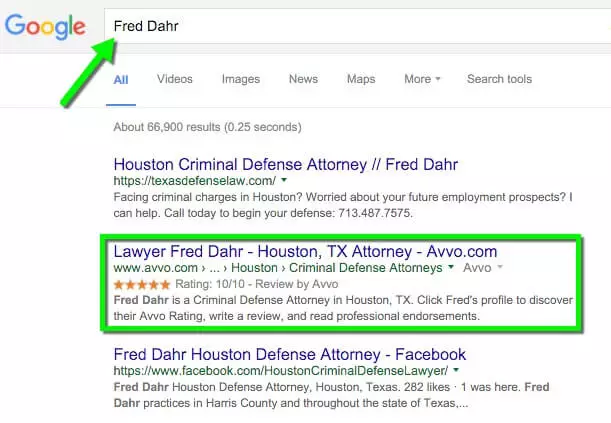 Imagine that someone is researching you online, potentially to decide whether to contact or hire you, and the first thing they see is this:
Needless to say, that's a bad first impression.
We believe that it's important for attorneys to work toward a high Avvo Rating because it prevents a questionable rating system from making them look bad to a lot of people.
Are There Other Benefits to Having a High Avvo Rating?
A high Avvo Rating will help you to rank well in the top Avvo results for your city + practice area descriptor, which could result in an increase in contacts from potential customers: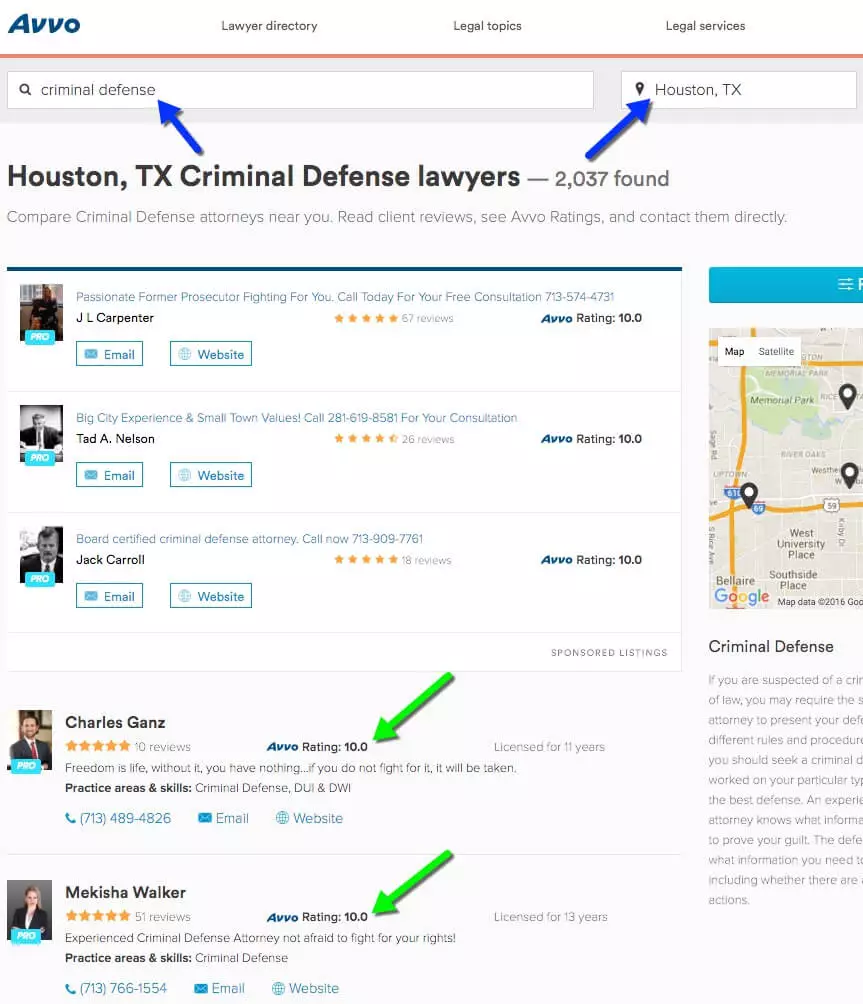 Note: The three results you see at the top of the result page are paid advertisements, similar to a Google search result. Based on our testing of Avvo advertising over the years, we don't recommend that you pay to advertise your services on Avvo at this time. Also, you will NOT get a rating increase by purchasing Avvo ads.
How Is the Avvo Rating Calculated?
According to Avvo.com:
The Avvo Rating is calculated using a mathematical algorithm that evaluates the information in your profile. If it's not in your profile, then we don't know about it, and if we don't know about it, then we can't give you credit for it. Adding relevant information (the more current, the better) to your profile can translate into points toward your rating.
Over the past five years I have helped many attorneys improve their Avvo Rating. Here, I'd like to share my insights into what works, and what doesn't, for increasing an Avvo Rating.
While there is no guarantee that Avvo won't change their algorithm in the future, I have never seen an attorney's Avvo Rating decrease, with the exception of those who have been disciplined by their state bar.
How to Increase Your Avvo Rating
1. Sign up and claim your profile
The first step toward increasing your Avvo rating is to sign up and claim your profile. You can start this process by searching for your name here: Avvo.com/for-lawyers/avvo-profile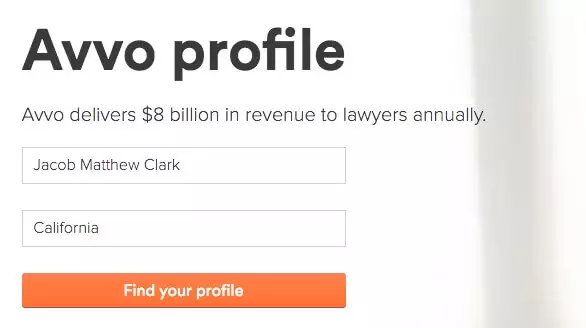 Next, click on your name and then click "Claim my profile".
You will then be directed to the Claim page where you can claim ownership of your profile automatically using either LinkedIn, Email, Facebook, or Phone Number.
2. Fill out your profile to 95%
Although it may take some time, grab a cup of coffee and fill out your profile to 95%. This means adding information for all of the following items:
You won't see the progress bar get to 100%
To get the last 5% you need to add an Avvo Rating Badge to your website. I don't recommend doing this, and it will not impact your ability to get to a 10.0 rating.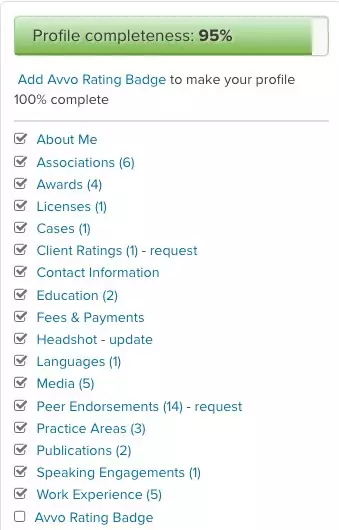 Fill out your practice areas properly
The practice areas that you use will determine what categories your profile shows up in.
Let's say that you're a personal injury lawyer: If you indicate that 100% of your work is car accident related, then you will only show up for car accident searches.
I suggest that you diversify this ratio by getting granular. If you're a personal injury attorney you'll want to show up in search results for other more specific practice areas like wrongful death, car accidents, truck accidents, etc. Take the time to determine how your case experience breaks down, and reflect that breakdown accurately:

If you are licensed in another state, or were, add it to your profile
You can increase your Avvo Rating by a full point if you add additional state bar licenses. Even if it was in the past you should add it (assuming you were not disciplined by the state bar). If you were disciplined by another state bar, adding it would dramatically decrease your score.
3. List your work experience
Listing your professional work experience is not only essential to completing your profile, but it also will help onlookers understand your areas of specialty.
Pro Tip: Add start and end dates. Be sure to add start and end dates wherever Avvo requests them. This will actually add points to your Avvo rating.

4. List any awards you've won
This is another area where Avvo's rating system falls down, in the opinion of many. Without having some sort of award on your profile, you likely won't reach a perfect Avvo Rating.
However, the credibility of the awards that impact Avvo ratings the most (Super Lawyers, Million Dollar Advocates, etc.) is something that many of our clients question.
Regardless of credibility, legal awards have a significant positive impact on your Avvo Rating, so add 'em if you've got 'em.
Pro Tip: Add award dates. Avvo awards point value to each award based on a variety of factors, including date. More recent awards will get you more points than older awards. If you don't add a date to each award, Avvo will assume the oldest possible date, which results in the minimum amount of points you can receive for that entry.
5. Add Cases to your Portfolio
Adding the details of your most impressive case work is really the best thing you can do to help people understand your qualifications. It is also necessary to continue to increase your Avvo Rating.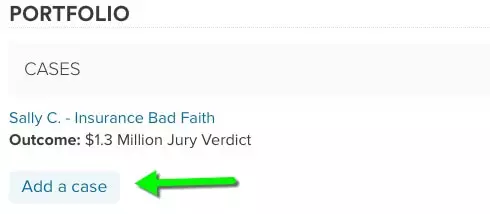 6. List the legal and business organizations with whom you are associated
List any business or legal associations you can claim. Common examples we see are Million Dollar Advocates, State and County Bar Associations, and the Better Business Bureau.
Be sure to include the association name, position name, and the duration.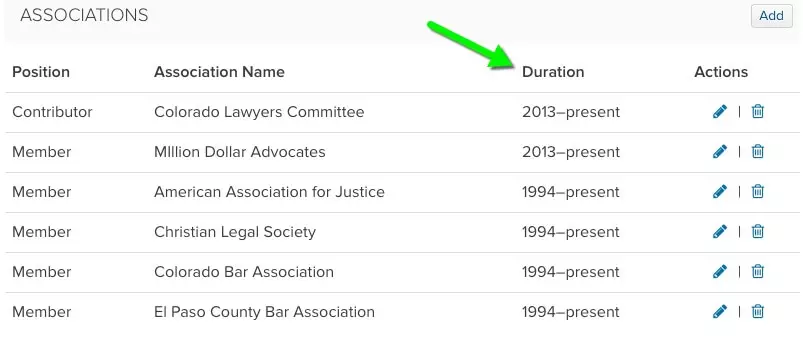 7. List any publications you've written
Have you written a book? Had a piece published in your local bar journal? Blogged on a popular website or provided an opinion piece on your blog or website? These ought to be listed under the Publications section of your profile.

8. List speaking engagements
Adding speaking engagements will moderately increase your Avvo Rating.
What I've seen is that you'll get a +0.1 score increase for every speaking engagement, but you will only get it if you include a link to information about the event on the web.
If the organization for which you spoke does not list your speaking engagement on their website, you could create a press release or recap of the event your own website and link to it. However, in some cases this may not be adequate to get the rating increase. Avvo looks for recognized, authority organizations here so your own website may not qualify.
9. Get Peer Endorsements
Getting peer endorsements will raise your Avvo Rating.
Peer Endorsements are votes from your peers that act as a vote of confidence in Avvo's algorithm. Avvo asks two questions about every peer endorsement:
The options for the first question are:
Fellow lawyer in community
Worked for lawyer
Supervised lawyer
Worked together on a matter
Opposing counsel on a matter
Co-Worker
Friend
Family Member
Other
In my experience, Peer Endorsements indicating "Worked together on a matter" and "Opposing counsel on a matter" will increase the Avvo Rating 3x more than any of the other options.
This does cap-out over time. Usually when you get to the 15-20 endorsement range, additional endorsements do not add additional points to your Avvo Rating. That doesn't necessarily mean that you should stop going after more peer endorsements after 15, just know they won't impact your score.
Things That Don't Increase Your Avvo Rating
Answering questions
Avvo has a massive legal Q & A forum. When logged into your Avvo profile, you can contribute answers to questions categorized in your practice area. While this can help showcase your expertise, it will not help you increase your Avvo Rating.
Tip: If you do answer a legal question that an attorney has already answered adequately, you could compliment the attorney, say you agree, and you may be able to land yourself a Peer Endorsement.
Creating legal guides
Legal guides are probably the biggest waste of time of Avvo. Not only do they require a lot of work to publish, there are not a lot of opportunities for that content to get seen due to the volume of duplicate topics and content.
If you go through the effort of creating a legal guide it will have more benefit on your own website or another website where it can rank for the search queries and get you more clients. Legal guides also won't help you increase your Avvo Rating.
Getting client reviews
Client reviews are helpful for making you look good but they don't appear to have an impact on Avvo Rating.
Overall Contributor Level
The overall Contribution Level that you see when logged into your profile will not impact your Avvo Rating.
Avvo Rating Frequently Asked Questions
Here are a few questions that I get asked the most often about Avvo Ratings, and my answers.
Can first year lawyers get a 10.0 Score?
Yes, we have worked with first year attorneys who have achieved a 10.0 score. This was mainly due to the fact they were well recognized and able to max out the awards and the industry recognition fields.
Can changing your current law firm have an impact on your score?
We have heard of reports where those who went from big law firms to smaller law firms see a slight decrease in points. This is typically a -0.1 to -0.2 drop, so it does not appear to be significant.
Is Avvo paid advertising worth the money?
At this time I recommend optimizing your Avvo profile but I do NOT recommend the investing in Avvo's ad platform.
Will paying for Avvo ads increase my Avvo Rating?
No. Paying for Avvo advertising will not increase your Avvo Rating.
Wrapping it Up
We suggest that you spend some time optimizing your Avvo profile so that you can achieve a high Avvo Rating. This is important primarily because Avvo's audience is large, and getting larger. Follow the steps laid out in this guide, and your Avvo Rating will become one less item to worry about.